Speedway tracks
on January 27, 2016
No Comments
A speedway is usually referred to as a motorcycle track built to utilize an oval track for racing purposes. Normally there are four to six riders competing together for bragging rights and a prize. According to Wikipedia, the first
speedway was utilized in 1923 for motorcycle racing https://en.wikipedia.org/wiki/Motorcycle_speedway.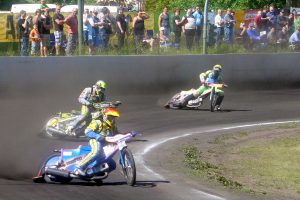 Many times, the track can be dirt, shale, or some sort of granule. The origin of the sport is actually a mystery but many acclaim origination before the 1920's in America and Australia. Unlike stock car racing, the start of a race for motorcycles is key. The rider mentally must decide his tactic for starting out of the "gate" whether he will be passive or aggressive. More aggressive drivers generally are rewarded with extra speed allowing some to pass other drivers or gain ground on the first lap. This can be very beneficial for the driver allowing him confidence and assurance that he has a place in the race.
Air and wooden fences are used in case of a wreck in this sort of race. Lives are more at risk on motorcycles traveling at top speeds than in a traditional stock car. That said, this also makes the experience more enjoyable for spectators and patrons. An interesting observation on speedway races is that the race tends to proceed counter clockwise. Always the preverbal "another left turn" as to the joke that circulates often in the racing world. Racing is something that always connects with inside of every person. We all want to improve and be better at our craft. We want to be the best, the fastest, the most efficient. Here at Toyota Speedway at Irwindale, we couldn't agree more. We want to be the best, the fastest, and the most efficient speedway track in the industry. We want you and your family to join us in a quest for the thrill and excitement. Gentleman…(and ladies)… start your engines at the speedway!